Freedom of Information Awards. This year, MCGOI awarded Elder Voice Family Advocates the 2023 Finnegan Freedom Information Award. Librarian Helen Burke, a former MNCOGI chair, won the 2023 John Borger Lifetime Achievement Award.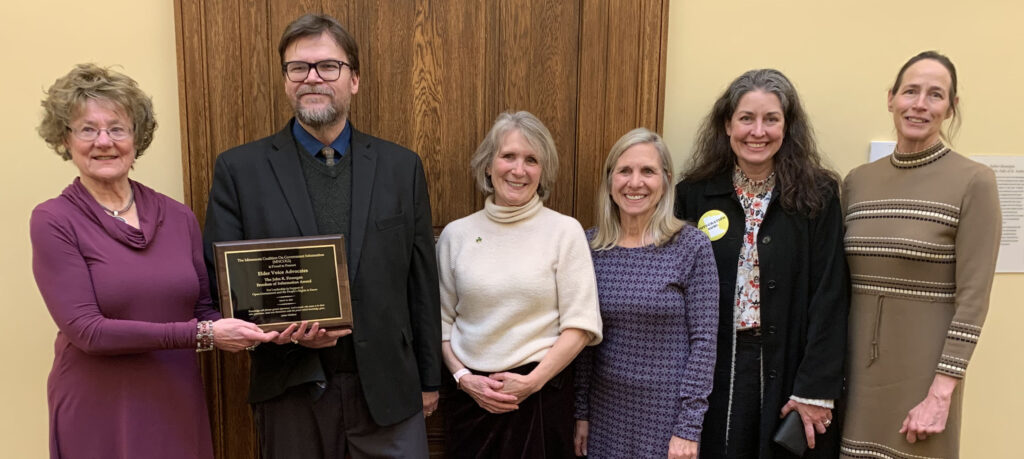 From left: Nancy Haugen, MNCOGI Chair Kevin Featherly, Jean Peters, Kay Bromelkamp, Misti Okerlund, and Anne Sterner.
Finnegan Award
Elder Voice Family Advocates is a nonprofit that advocates for senior citizens, assisting seniors and their families to monitor care quality in the state's nursing homes, memory care centers and numerous other related facilities.
The group won the Finnegan award for working with the Minnesota Department of Health (MDH) to create an online database, "Elder Care IQ," that allows users to easily search for facilities' care-quality track records and any history of abuse, neglect or exploitation. Database users can search for facilities by zip code, then examine MDH complaint data, state inspection survey forms and related correspondence.
The project is a positive example of how the Data Practices Act can be utilized to provide critical information to the public. As a side note, MNCOGI wishes to highlight MDH's vital role in helping to transfer its data to the Elder Care IQ project, free of charge.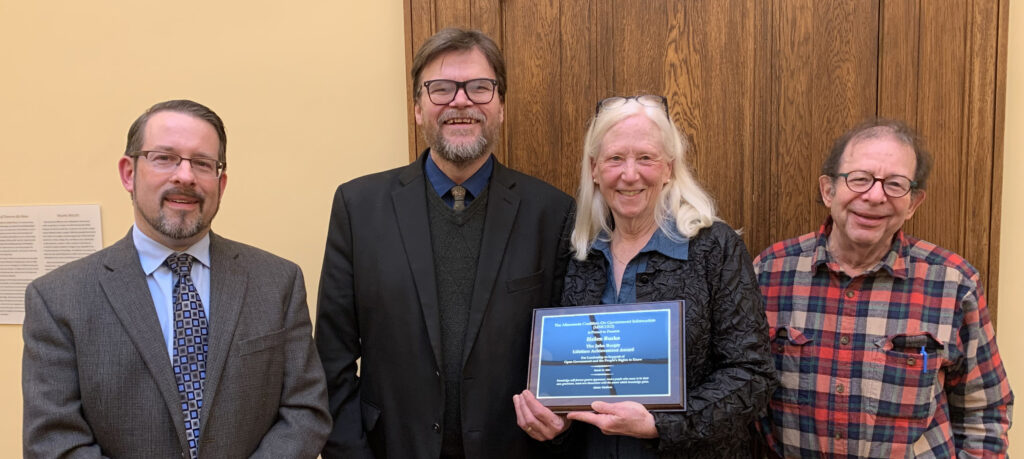 From left: Matt Ehling, Kevin Featherly, Helen Burke, and Hal Davis.
Borger Award
Helen Burke spent her professional career in the Minneapolis Public Library and Hennepin County Library System government records departments. She spent two decades serving on the Minnesota Library Association's Government Documents Roundtable, and twice served as its chair.
Helen served on the Minnesota Library Association's Committee for Intellectual Freedom from 2004-2014. She also served on MNCOGI's board for over two decades and was its chair for half of that time, helping transform MNCOGI from a library-focused organization to a broader coalition of open-record advocates engaged in public education and policy development.
MNCOGI's awards are named for John R Finnegan, the former Pioneer Press editor who advocated for the establishment of the Minnesota Data Practices Act; and John Borger, a Minnesota lawyer who was one of the nation's foremost First Amendment attorneys.
A ceremony presenting both awards was held Minnesota State Capitol's Cass Gilbert Library on James Madison's birthday, March 16, 2023, the United States' traditional Freedom of Information Day.