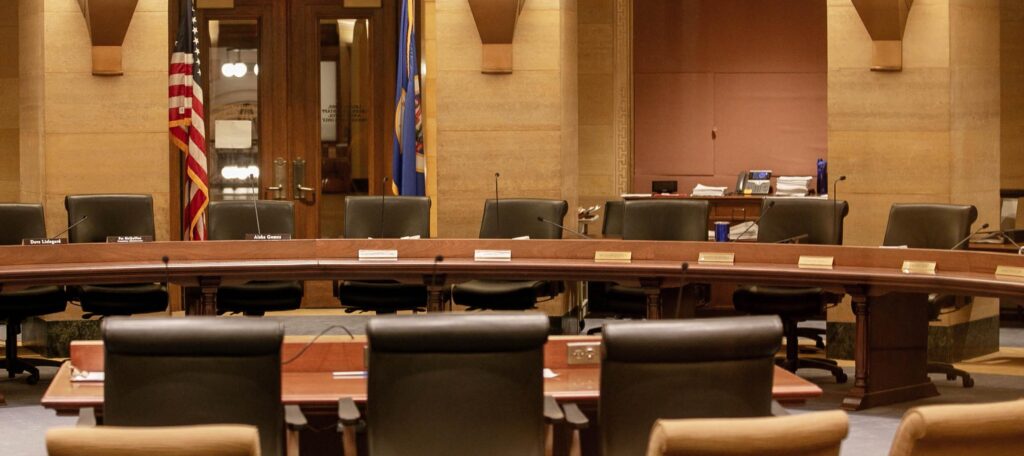 Our Mission
The Minnesota Coalition on Government Information (MNCOGI) is the state's all-volunteer freedom of information council. It engages in public education, legislative advocacy and litigation to further the cause of government transparency and the public's right to know at a time when freedom of information is at a crossroads.
By "transparency," we don't mean simply transmitting more government data electronically and issuing press releases. We mean maximizing Minnesota's citizen access to all public government data. We also mean encouraging government, at all levels throughout the state, to carry out its statutory duty to make public data access easy and convenient.
Here are a few more details on what we do.
Public education. Through seminars and events like a recent data practices training session that MNCOGI co-sponsored with the Minnesota Society of Professional Journalists, we work to get the word out about our democracy's need for the free flow of government-held information. Our public education mission is also furthered through occasional op-eds and media interviews, and by our frequent appearances at the Capitol giving public testimony to legislators, audience members and viewers of Capitol media.
Legislative advocacy. MNCOGI, led by volunteer Data Practices Act experts Matt Ehling and Don Gemberling, is at the center of Capitol negotiations when it comes to freedom of information and government transparency issues. Our volunteer advocacy has had direct impact on array of legislation on topics like regulating police drone technology and automated license plate readers, and, more recently, legalized marijuana regulation.
Litigation. When circumstances call for it, MNCOGI files suit to force release of government information that should be publicly available. For instance, MNCOGI's legal intervention was central to the public release of investigative data about the closed investigation into Jacob Wetterling's kidnapping and murder. Among its many effects, release of that data led to production of the award-winning American Public Media podcast, "In the Dark," and prevented the development of case law that would negatively impacted public access to police investigative files.
Our Board Members
Paul Bosman
Paul Bosman is Chief Counsel for the nonprofit Communities United Against Police Brutality and facilitates CUAPB's Government Data Practice Workgroup. As such, he has frequent contact with municipalities, counties and state agencies while obtaining government data related to police accountability. Somewhat less frequently, he has contact with those bodies through litigation attempting to enforce the state's Data Practices Act.
Paul is a cum laude graduate of the William Mitchell College of Law. Prior to law school, Paul worked as Donor Acquisition and Data Management Officer for Allina Health's philanthropic entities. Prior to his ten years with Allina, Paul had worked for New Jersey Environmental Federation, Minnesota COACT, Minnesota Clean Water Action, Montana People's Action, Idaho Citizen's Network, Washington Citizen Action, Oregon Fair Share, and Campaign California. Paul is also a former. U.S. Army Infantry Officer and Military Parachutist.
Hal Davis
Hal Davis is the retired team leader for public safety at the St. Paul Pioneer Press. He held a similar position at the Dayton (Ohio) Daily News. Prior to that, he was assistant editor at the National Law Journal, news editor at Bloomberg Business News, a reporter at the New York Post, where he covered state courts for 15 years, and a reporter at United Press International. He has worked to expand camera access to courts in New York, Ohio and Minnesota, and helps train journalists in public records law.
Matt Ehling
Matt Ehling is a writer and television producer, and the executive director of Public Record Media. His broadcast documentaries include "Urban Warrior" and "Intent: Searching for Meaning in the Constitution," and have been seen on PBS, the Bravo Channel, and at film festivals worldwide. He has been part of several Upper Midwest Regional Emmy Award-winning teams. His written work has appeared in the on-line news magazine Minnpost.com and other outlets.
His organization Public Record Media (PRM) uses government documents to produce public affairs media. PRM is a frequent user of government records laws at the state and federal level and seeks to encourage government compliance with such laws through administrative actions and litigation when appropriate.
Don Gemberling
Don Gemberling began working, professionally, with issues of transparency, governmental accountability, the implications of technology on humans, and data privacy in 1973. For more than three decades, either alone or as a staff team leader, Don managed functions in the state Department of Administration that helped government agencies comply with the Data Practices Act and related law. He also helped citizens exercise their rights under those laws.
He is currently on the MNCOGI board and is the board's secretary. He is also MNCOGI's spokesperson and testifies before the legislature. He graduated from Macalester College and William Mitchell College of Law. He is available to answer questions and enjoys training citizens about how to best use transparency and data privacy laws.
Nancy Herther
Nancy Herther worked for over 30 years as a research librarian at the University of Minnesota. She has also worked as a research consultant for major technology companies and continues to advise/consult/write in all areas concerning information access and trends. In recognition of her "outstanding professional accomplishments and dedication," she was selected in 2020 to receive the Albert Nelson Marquis Lifetime Achievement Award from Marquis Who's Who.
Isabella Salomão Nascimento
Isabella Nascimento is an associate at Ballard Spahr LLP in their Media & Entertainment Law group, where her practice is centered on protecting the rights of the press and the public as guaranteed by the First Amendment. She started her career as a Staff Attorney with the American Civil Liberties Union of Minnesota, where she represented clients who had their civil liberties threatened or violated. And her background was in indigent criminal defense, racial justice, and police accountability. She believes that a transparent government is the best means to achieve its accountability and ensure it is working for the benefit of all its constituents. Isabella, the daughter of immigrants and a first generation American, was born and raised in southern Minnesota. Isabella received her bachelors' from the University of Minnesota and her law degree from the University of Chicago Law School. (She/her)
Mary Pattock
Mary Pattock is a writer, editor, and retired communications professional. She served in public and nonprofit organizations where duties included providing information to the media and members of the public. She was communication director for several State of Minnesota agencies, the Office of the Mayor of Minneapolis, Minneapolis Public Schools and Minnesota Public Radio. At the University of Minnesota she was communication director at the School of Nursing, and editor of the College of Liberal Arts' Reach magazine. As a community activist, she was a founder of the DFL Feminist Caucus, and a founder and chair of the Cedar-Isles-Dean Neighborhood Association.
Kristine Tietz
Kristine Tietz is deputy general counsel of Hubbard Broadcasting, Inc., a media company that serves communities across the country through its television and radio broadcasting stations, cable network REELZ, and several related businesses. Kristine focuses her practice on intellectual property, media, and First Amendment law. Prior to joining Hubbard, Kristine worked in private practice at Robins Kaplan LLP, where she represented clients in a variety of intellectual property disputes. She is a graduate of the University of Minnesota and William Mitchell College of Law.
MaryJo Webster
MaryJo Webster is a data journalist at the Star Tribune in Minneapolis, where she has worked since 2015. Prior to that she spent nine years as data editor at the St. Paul Pioneer Press. Prior to that she worked as the sports data editor at USA Today and was the first data editor for The Center for Public Integrity.
She started her career as a reporter at small newspapers in New Ulm, Minn., and Oshkosh, Wis. She has a bachelor's degree in journalism from the University of Wisconsin-River Falls and a master's degree in journalism from the University of Missouri-Columbia. While in Missouri, she worked at Investigative Reporters and Editors, a membership organization that trains journalists in skills such as investigative reporting techniques, data analysis and how to use public records laws. She is also a senior fellow with the Data Fellowship program run by the USC-Annenberg Center for Health Journalism.
Chris Weiland
Chris Weiland is an IT professional who is also active with surveillance and privacy policy. He describes himself this way: "Chris is a freelance nerd and the chair of Restore the Fourth Minnesota. He wears his tinfoil hat with pride and does not like sharing personal information about himself."
MNCOGI Policy
Advocacy for government transparency
MNCOGI helps advocate for government transparency in several different ways. Our volunteer board members occasionally testify before the Minnesota legislature on information policy; we file comments regarding applications for temporary data classifications on an administrative level; and we write public commentaries on information policy and transparency issues.
Find background and documents related to these activities on our Policy page.
Financials
MNCOGI Tax and Financial Documents, 2017 – 2022
Archives
An archive of content from our Blogspot site (2007 – 2013) can be found at blogspot.archive.mncogi.org.